MOTackle.com.au is owned and operated by Fishing Tackle Australia Pty Ltd - A 100% Australian owned family business!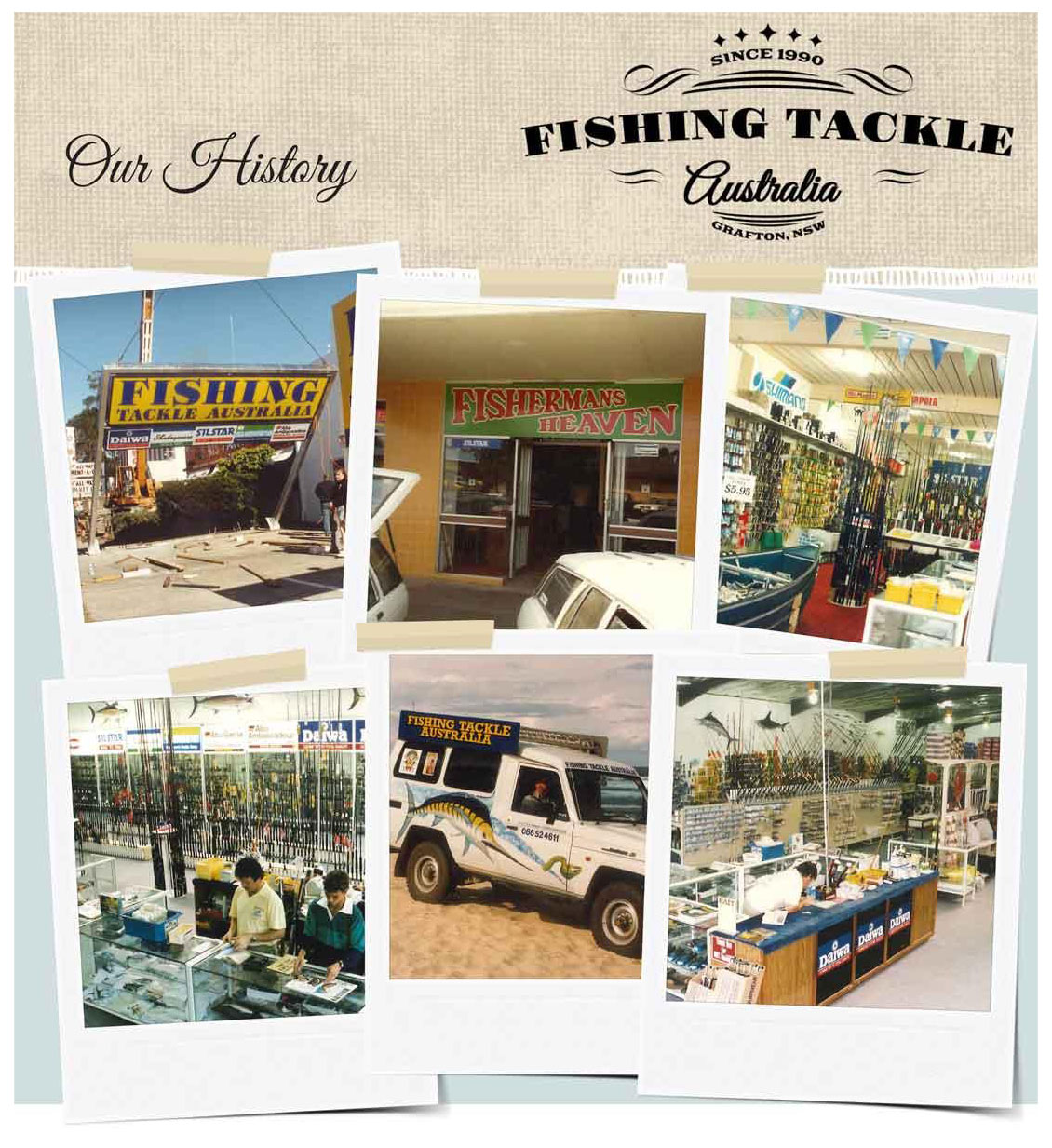 Australia's largest tackle store began life from humble beginnings in Grafton. Reg & Carly Coutts-Smith saw the need for a good gun shop in Grafton, one that actually supplied good service and after sales back up, so they set about to create just that with only a $10,000 bank loan.
The store in Grafton became very successful and Reg, a Sawtell Local, decided that it was time for Coffs to have the same, so he set up a store in Little Street and persuaded his mum to give him a hand. Meanwhile, Carly continued to operate the Grafton store with some casual help. For a number of years, with a growing young family, Reg commuted between Coffs and Grafton daily.
With changes in gun laws and community acceptance of firearms, Reg and Carly decided it was time to move on so Reg decided to embrace his other passion, fishing.
Fishermans Heaven was bown and all the emphasis was transferred from firearms to fishing tackle. The move became so successful that it was soon time to upgrade the premesis. The move was made, just up the street to 'the big shop in Little Street', a phrase that the locals were to hear for a great number of years.
With a very successful business happening in Coffs, the Grafton operation was shut down to concentrate all efforts in keeping the Coffs operation growing.
With an eye for the future, Reg and Carly took the first tentative steps in the relatively unexplored realm of mail order fishing tackle. In December 1990, 'Fishing Tackle Australia', a fishing tackle magazine, was released through newsagencies Australia-wide to encourage anglers to get their tackle from Coffs Harbour. It was an instant hit. Having no real model to follow, Reg and the team continued to expand the business purely by trial and error. The business was rebadged as Fishing Tackle Australia to keep it in line with country wide operation.
In 1995 the operation was moved to the current location on the Pacific Highway in one building that now houses the outdoors store. The new Pacific Highway location saw a huge upswing in business for the tackle store and the use of Australia-wide television advertising put the mail order business and Coffs Harbour on the map. The 'Fishing Tackle Australia' magazine also evolved into the now household name in fishing tackle - MO Tackle. There were always keen fisho's stopping into the the store eager to meet 'Mo', the person they thought must have been behind Australia's largest tackle store, but MO Tackle was always just an abreviation for 'Mail Order Tackle'.
Other buildings in the block were purchased. The old Bazza's Warehouse was first, but due to a sitting tenant the front half could not be utilised until leases expired. The old Barbecues Galore site was next and the move was on to expand into camping and outdoor equipment. Reg felt that it would be a good mix with fishing tackle. The Always Hire building followed as the final piece of the jigsaw and when the lease expired from the front of the old Bazza's building, a complete rebuild saw Australia's largest tackle store emerge. The new tackle store became the focus of anglers Australia wide with hundreds of mail order customers making the trip to see the huge store. Visitors came from every state in the country and the store also became a hit on the world market with people from as far away as Japan, USA, Africa and a number of European countries making the journey as there is nowhere else in the world that you can see a bigger range of tackle on display.
In fact, an offer of $20,000 was made to anyone who could come up with a bigger tackle store anywhere in the world. A few tried but it was soon apparent that there just did not exist a bigger store offering the same or bigger range of fishing tackle.
2011 saw the addition of the Kayak Shak and a huge range of kayaks added to the mix. The mail order section has also expanded since its early beginnings with items being dispatched to all points of Australia. A team of dedicated and experienced anglers has also formed to provide assistance. Team requirments include being able to advise on Barra fishing in the north to cold water angling in Victoria and Tasmania. They must also be able to advise on both salt and freshwater fishing. In fact, there is always someone on the team that has experience in all types of fishing, with a couple of staff having fished on three or four continents!
The huge complex on the highway in Coffs now encompasses several buildings, Fishing Tackle Australia - with its massive range of fishing tackle as well as a boating & marine electronics department, Coffs Harbour Outdoor World - a massive outdoors store with everything from camping & 4WDing to kayaking, surfing, diving & watersports, and our Mail Order department - looking after our Australia wide customers.
Now, in 2017, just like we did almost 3 decades ago, Fishing Tackle Australia, Coffs Harbour Outdoor World & MO Tackle and taking our next step forward, and welcome you to 'MO Tackle & Outdoors' - Your one stop shop for Fishing, Boating, Camping, Outdoors, Spearfishing, Diving, Watersports and so much more.
MO Tackle & Outdoors employs over 50 local staff, not bad when you consider that it all started forty years ago with Reg and his mum, with wife Carly keeping the home fires burning. And Reg still says - 'One day I'm going to take a day off!'.
Reg would like to publicly thank the many thousands of loyal customers that have popped through the doors over the years and also all staff members past and present who have contributed to the huge success.